Foot, Massage Reflexology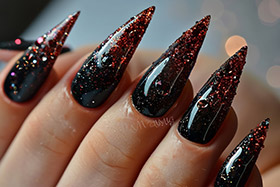 Mini Foot Reflexology (30 Mins)
$30
A foot bath of your choice followed by a 30 mins foot massage Reflexology. Ideal for people on the move.
Foot Reflexology (60 Mins)
$59
Just what your feet need at the end of the day. Includes: An herbal foot soak, with 15 mins hand treatment and 45 mins foot massage Reflexology.
Deluxe Foot Reflexology (60 Mins)
$59
Immerse your hands and feet in a warm paraffin bath to smooth them out, following an Herbal foot soak and massage on your fingers, hands, and arms. Moving down to your feet with firm pressure to take away those tired or sore feet.
Hot Stone Foot Reflexology (60 Mins)
$59
Hot Stone Reflexology combines the benefits of a conventional Reflexology treatment with the use of heated stones to stimulate Reflex points on feet or hands for a deeply relaxing and rejuvenating experience.
Spa Packages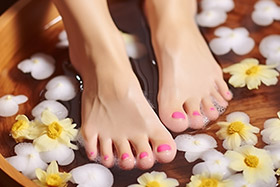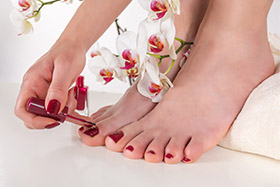 Girly Foot Reflexology (75 Mins)
$69
Pamper your feet with a complete 45 mins foot massage Reflexology. Removal of dead skin cells, callouses, and rough skin, shaping, trimming and moisturizing will leave your feet a look and feel. Finish with toenails polished to perfection.
Deluxe Girly Foot Reflexology (95 Mins)
$89
Focus-tired, achy feet. This treatment begins with an Herbal foot bath of dead sea soak, herbal oils, and sugar scrub and callus treatment, a moisture mask is placed on your feet coincided with the hot towel. Revel in the finishing touch of the paraffin treatment leaving your feet calm and relaxed. Next is 60 mins of hand.
Pedi Reflex Combo (60 Mins)
$59
Your feet are soaked in our Herbal Aroma therapeutic bath and gently exfoliated with a citrus scrub. Then enjoy a cooling mask to ultra-hydrate and restore your skin. Next, a warm towel wrap and a special cooling gel to promote a feeling of peace and renewal. Finishing with 30 minutes of Foot Massage Reflexology to complete your pampering.
Headache, Neck and Shoulder (75 Mins)
$69
Release the tension from your head to toes. Start with a 15 mins finger, arm, and shoulder massage, as your feet soak in an herbal foot bath. Then let your stress be guided out of your body with a 45 mins foot massage reflexology. Finishing with 15 mins working on your shoulder and neck to release all that tension.
Chair/Back Massage
$15/$28/$56
( 15/30/60 Mins)
On-Site Chair Massages provide quick relief for anyone that suffers from "headaches", "stiff necks", "aching backs", "sore feet", or those who just need a quick recharge.
Hand and Foot Care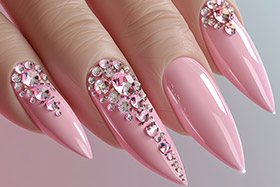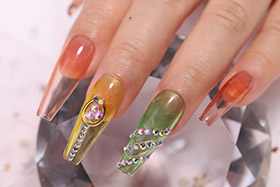 Collagen Mask Manicure
$20
Manicure with Paraffin
$20
Spa Pedicure + Manicure
$45
Pamper yourself with a complete treatment. Removal of dead skin cells, calluses, and rough skin. Shaping, trimming and moisturizing will leave you looking and feeling great. A 10-minute massage on top of your manicure/pedicure polished to perfection.
Herbal Pedicure
$47
Extra callus removal, custom-made Herbal Mask and paraffin treatment. Includes your choice of custom made herbal products from our menu of herbs for a relaxing sensory experience. This service includes nail and cuticle care, exfoliations, callus removal, a 10 min foot massage Reflexology, hot towels, and your choice of lacquer or nail strengthener.
Herbal Spa Deluxe Pedicure
$52
Our signature service. Includes a relaxing foot bath, an exfoliation treatment, intensive calluses and cuticle removal. Following a layer of sea-scrub and sea-salt glow. Next a mask is applied, creating a cooling sensation as it dries. When removed, it sloughs off dead skin cells and roughness. The treatment finishes with a 20 minute Foot massage, Reflexology, soften dry heels therapy, mineral salt scrub, hydrating lotion and hot towel wrap to improve circulation.
Le's Sanctuary Herbal Pedicure
$57
Herbal pedicure plus paraffin wrap and hot stone.
Collagen Treatment Pedicure (40 Mins)
$42
Includes file, shaping, callus treatment, sugar scrub treatment, cuticle trimming, cooling mask, collagen socks, buffing of entire foot, followed with hot oil, hot towel and light massage to smooth your feet. (White Tips Extra $5)
Deluxe Spa Pedicure
$37
Includes nails trim, shaping, cuticle grooming, callus treatment, mineral salt scrub treatment, cooling mask, hot towels, lotion massage, and entire foot smoothing and polishing. (White Tips Extra $5)
Deluxe Spa Pedicure w/Hot Stones (45 Mins)
$42
Includes nails trim, shaping, cuticle grooming, callus treatment, mineral salt scrub treatment, cooling mask, hot towels and hot stone treatment, lotion massage entire foot smoothing and polishing. (White Tips Extra $5)
Deluxe Pedicure w/Paraffin (40 Mins)
$42
Includes nails trim, shaping, callus treatment, sugar treatment for dry skin, cooling mask, hot towel, and paraffin massage, entire foot smoothing, light lotion massage, and polish. (White Tips Extra $5)
Deluxe Spa Pedi w/Hot Stones & Paraffin (45 Mins)
$47
Includes nails trim, shaping, cuticle grooming, callus treatment, mineral salt treatment for dry skin, cooling mask, hot towel, hot stones treatment and paraffin massage, entire foot smoothing, light lotion massage and polish. (White Tips Extra $5)